From Conflict to Communion is the title of a report published by the Lutheran–Roman Catholic Commission on Unity on the occasion of the joint commemoration of the reformation in 2017. The Catholic and Lutheran co-chairs write in the introduction that it "describes a way 'from conflict to communion'—a way whose goal we have not yet reached. Nevertheless, the Lutheran–Catholic Commission for Unity has taken seriously the words of Pope John XXIII, "The things that unite us are greater than those that divide us."  We invite all Christians to study the report of our Commission both open-mindedly and critically, and to come with us along the way to a deeper communion of all Christians."
Read this report on the Vatican site here:
Read this report on the Lutheran site here:
Pope Francis and Lutheran World Federation President Bishop Younan signed a joint statement on the occasion of the joint Catholic-Lutheran commemoration of the reformation at an ecumenical prayer service held in Lund, Sweden, on 31 October 2016. Read the joint statement here: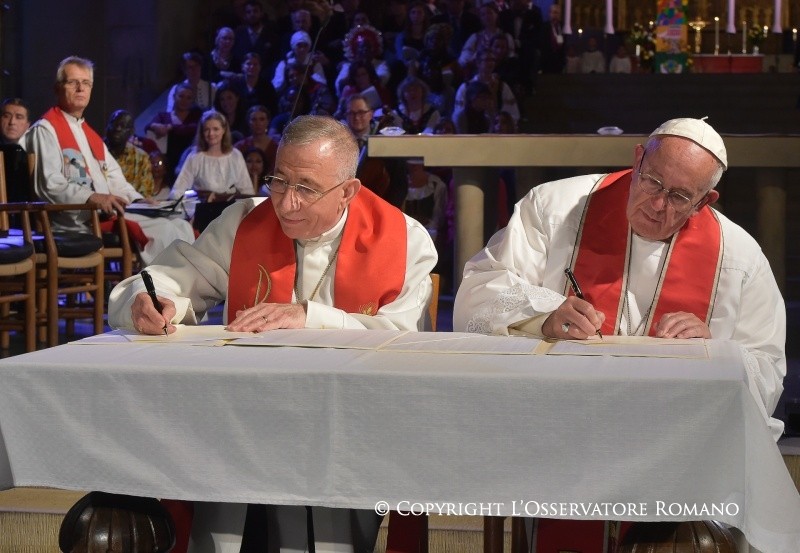 Image source:
https://w2.vatican.va/content/francesco/en/events/event.dir.html/content/vaticanevents/en/2016/10/31/dichiarazione-congiunta.html
The Australian Catholic Bishop's Conference has published a number of important statements on the role of ecumenism in Australia including:
The Impulse of God's Grace, Pastoral Letter on the centenary of the ecumenical movement, 2010.
Seeds of Unity on the 50th anniversary of the issuing of the Second Vatican Council's Decree on Ecumenism, Unitatis Redintegratio.
The Second Vatican Council's decree on ecumenism can be read here: